The Beginning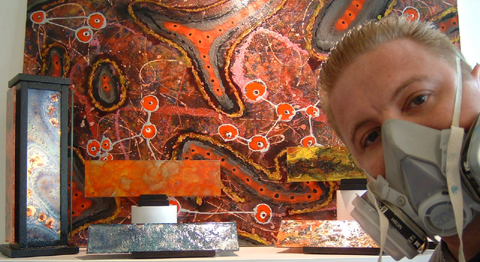 Jason in his Eagle Rock, California Studio "Where it all began..."
Born in Laguna Beach California in 1972, it would take Jason Schaper thirty years to realize what he was meant to do with his life. In "Abstract Art" he found the perfect outlet for his creativity and independent spirit.

Life was more than a passive experience for Jason. He was always trying to see what kind of reaction he could get from others by testing the limits. As a teenager living in the San Fernando Valley during the "Birth of Hip-Hop", Jason began exploring his creative and rebellious side through the art of graffiti. At fifteen his days as a "graffiti artist" were put to an abrupt halt with an arrest for "Defacing Private Property". He dropped out of high school at seventeen and with his GED pursued a wide variety of part-time jobs and small start-up businesses, with very little passion.

At 24 and still no real direction, Jason was given the opportunity to join the team at Monarch Interactive, a video game design firm in the San Fernando Valley. Self-taught as a graphic designer, it wasn't until Jason began his work at Monarch that he rediscovered his passion for art. Monarch went under, but now armed with the tools he gained from this experience, Jason was confident that he could make a living as a freelance graphic artist.

In 2000 he started Jason Schaper Creative Consulting, providing websites for clients such as The Comedy Store on Sunset Blvd in Hollywood, The California Endowment, Leadership Pasadena and the Los Angeles Commission on Assaults Against Women. While this avenue opened up his creativity, it also became too confining and he needed a more open medium for expression.

In 2002, Jason was given a set of oil paints and some canvases that started him on his path as an artist. A self-taught painter, Jason produced his first commissioned piece of artwork just one year after taking up what he thought would only be a hobby. With the support of the two most important people in his life, his mom Gail and his longtime girlfriend Jennifer, he is now focused on getting back to his artistic roots and is painting full-time.

Since dedicating himself full-time to painting in January of 2005 Jason's work has garnered critical praise and attention. In June of '05 he had his first solo exhibit at the Metro Gallery in Pasadena, and in the past 4 years has been commissioned by interior designers to create original works for their clients, built an extensive base of private collectors around the country, participated in group shows at galleries throughout Los Angeles and is now a Hawaii resident and resident artist at the Wyland Gallery in Kaua`i County, HI. He looks forward to continuing to bring his art to new audiences both here on Kauai and abroad. Jason hopes that his unguarded approach to painting inspires others to open their mind and view life from a different perspective.

Jason with Artist Wyland 12/08
With plans to be on all four sides of the island by Summer 2009, Jason has been busy in his new studio finally creating from a truly happy place.
* UPDATE 2009


Jason and Mom Gail in Waimea, Kaua`i 1979ish

If you know Jason, you know his love for the Hawaiian island of Kaua`i. He first visited the island at age seven with his parents Gail and Steve Schaper. From that day forward the island has been not only inspiring Jason's artwork but calling to his heart.

A life on Kaua`i was always the goal for Jason and in November of 2007, Jason and his long time girlfriend Jennifer packed up their home in L.A. and headed out for a new life in paradise.


Jen & Jason / Hanalei Bay 7/4/2008

The island immediately embraced the two, with Jason successfully selling artwork in the Wyland Gallery within the first few months and Jennifer has been equally productive as the Executive Director of the Kaua`i Public Land Trust.


"Turtle Tunnel", Jason's snorkel spot


"Rock Quarry" (Kahili Beach) Jason's surf spot

Please Donate to My Favorite Cause

www.kauaipubliclandtrust.org
"Preserving Kaua`i's places of the heart"